One A Day – 1051 – Alfombras
Team Brazil – Hard at work
Team Mexico City with a highly detailed Mayan design
Jesus and Francisco Left their hats – Team Patamban
Team Patamban – hard at work
Exotic – Team Japan
At Work – Shading and Detail
Every Line of Detail
Teams finishing and taking photos in front of cathedral

Belgium
Little by Little
Grand Vision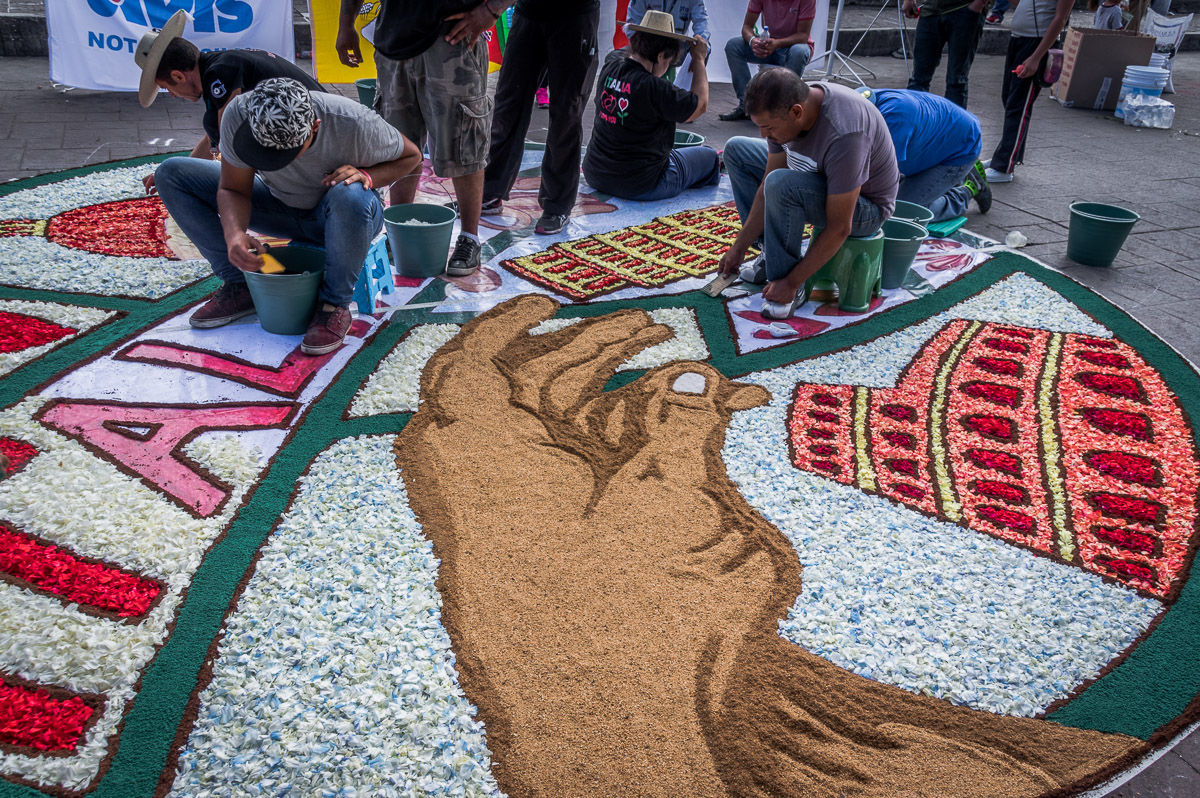 Team Italy, of course
Uriangato Official
Classic Alfombra
Calle Benito Juarez
Bienvenidos
Loaves & Fishes
Colors & Stencils
Calle Benito Juarez
2do Encuentro Internacional de Alfombristas

Uriangato & Moroleón, Guanajuato, México

October 6, 2017

Copyright, all rights reserved
I love the idea of the alfombras. They are rugs, more or less, made of natural materials (well, mostly) that can be swept away harmlessly at the end of the event. They are handmade with colored sawdust, sand, flowers, bark, and all sorts of unexpected bits poured in lines, pressed into stencils and worked over most of the day before being walked on as the icon of the saint is paraded to the cathedral. They are startling, dramatic, naive, and most of all, beautiful. But more than that, they are an endeavor that brings the communities of Uriangato and Moreleon together; fully involved in making the event one to  remember.
The international teams in this event are from the country named, artists and others who are committed to the art of the alfombra as a form that is both beautiful and ephemeral. The local teams include sports teams, youth community groups, and neighbors on the streets that are part of the event. Everyone is serious about making a strong effort, but having a good time doing it. Around the edges you can see preparations for barbeques and gatherings later in the evening and a general sense of happiness.
I really enjoyed going to this event, and therefore – well, I have more pictures to put up. I don't tire of seeing them so – I will do what I can to ensure I can return next year. In the meantime, I've got a lot of work to do….